It's a Clay Coyote classic – chicken tagine with preserved lemon, green olives, and thyme. Some of you may be familiar with this dish from one of our open house events or a studio-to-table dinner. We whipped it up as the third piece of our cooking with clay filled day on Monday. Although the dish may sound a little intimidating if you aren't familiar with tagine, it is actually quite simple to make. Here is a video we made and quick rundown of the process. 
Start things off by gathering your ingredients. You'll need the following.
3 lbs. chicken, cut into 6 pieces
¼ cup olive oil
1 clove of garlic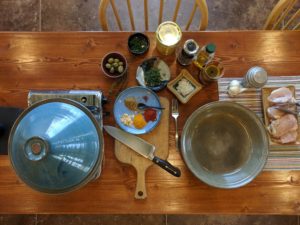 1 tsp. paprika
½  tsp. ground ginger
¼ tsp. turmeric
¼ tsp. ground cumin
¼ tsp. kosher salt
¼  tsp. freshly ground black pepper
Small pinch saffron, crushed
1 tbsp chopped thyme, divided 
1 preserved lemon, most of the pulp removed; the rind cut into thin strips
1 cup green unpitted olives
½ cup chicken broth
Next, in a bowl (or a Clay Coyote Flameware Savory Pie Dish like us) combine the garlic, the dry spices, and a small amount of olive oil. Then add the rest of the olive oil to your Clay Coyote Tagine bottom and start heating. As the oil heats, coat your chicken in the spice mixture. 
Once your oil is hot, add the chicken to the tagine base brown each side. This should take just two or three minutes per side. While the chicken is browning, you should prep your preserved lemons. Remove the pulp, and thinly slice the remaining rind.
After both sides are browned, add the lemon, about half of the thyme, green olives, and chicken broth. Now simply place the cover on your tagine and cook for 50 minutes. Once it is done, remove the lid and watch the steam billow out before garnishing with the remaining thyme.
I thought that the stovetop apple crisp we made earlier in the day smelled amazing, but this dish is so wonderfully fragrant that I think it won the award for best smelling dish of the day. Unfortunately for me, I did not get to enjoy this delicious tagine today. Morgan took it home and made some couscous to serve with it for dinner. She reported that her dinner guests loved it, which did not come as much of a surprise to me. ​