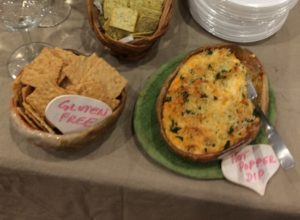 Thanks to everyone who came out this week for our Coyote After Dark evening. The super moon was super awesome. The next after hours event is Tuesday, December 13th on the full moon.
The hit at this event was the jalapeño popper dip Betsy found on Spending with Pennies. We made it in one of Katie Teesdale's food and oven safe appetizer dishes.
Here's the recipe: 
Ingredients
1 4oz can diced jalapenos, well drained OR 4-6 fresh jalapenos, roasted and diced (include seeds if you like it really spicy)
1 8oz package cream cheese, softened
1 cup sour cream
1 teaspoon garlic powder
2 cups shredded cheddar cheese
¾ cup shredded parmesan cheese
Topping
1 cup Panko bread crumbs
4 tablespoons butter or margarine, melted
¼ cup shredded parmesan cheese
1 tablespoon fresh parsley
Instructions
Preheat oven to 375 degrees.
With a mixer on medium, combine cream cheese, garlic powder and sour cream until fluffy.
Add cheddar cheese, ¾ cup parmesan cheese, and diced jalapenos, mix well.
Spread into an 8×8 baking dish.
Combine bread crumbs, melted butter, ¼ cup shredded parmesan cheese, and parsley.
Sprinkle the crumb topping over the cream cheese mixture.
Bake 15-20 minutes, or until hot and breadcrumbs are golden brown.
Thank you Spending with Pennies, this is now our go-to dip too! For more great recipes follow Spending with Pennies on Pinterest.