When people ask where I grew up I say, "a pottery farm." It normally garners a chuckle and a follow up "what's that?" But it's my story. In 1994, my mom (Betsy) and her partner (Tom) decided to move our family from the suburbs of Chicago to start what became the Clay Coyote Pottery business on a 60-acre hobby farm in Hutchinson, MN. Their vision was to create a destination where people could come to buy handmade, functional, and affordable pottery in central Minnesota.
I grew up at the Coyote. After school I'd come down to the Studio and tell Mom and Tom all about my day while scraping clay off bats. On weekends I'd travel with them to art shows, often doing homework on the curb behind the booth. And I still have the set they made me when I left to college with my initials on the bottom. Each year, I'd be home for our seasonal Open Houses, Christmas Eve rushes for last minute gifts, and other special occasions.
In 2002, I came home to help open the Gallery. It was a beautiful site, the red gleaming building on the edge of the prairie. And it was a joy to meet the new artists as we began to fill the shelves. Each year since then, Betsy and I have met up annually in Philadelphia to find the new art for the Gallery. Tom and Betsy would always say, "some day it will all be yours."
In 1998, I went off to college at the University of Wisconsin – River Falls where I studied political science, journalism, Spanish, and art. After graduating I moved to Washington, DC to work for the Center for Public Integrity as a writer and researcher for close to three years. Through a friend at the Center, Ian and I met and we've been together ever since. In 2005, we adopted Sarge, the wonder dog, from a shelter in Alexandria, VA and he's ruled our world.
In 2004, I took a position as a consumer advocate and lobbyist for Consumers Union (the policy and advocacy arm of Consumer Reports). I stayed with Consumer Reports for almost twelve years. First in DC, then in the Austin, TX office, then at Headquarters in Yonkers, NY.  While working for Consumer Reports, I went back to school at Columbia University for a Masters in Fundraising and Nonprofit Management.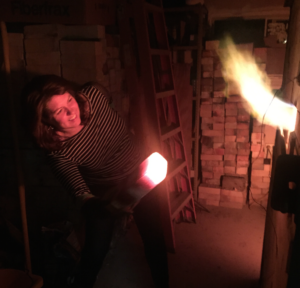 All the way along, Betsy and Tom have been rootin' and cheerin', and helping me reach every milestone that was on the path to coming home.
It's been a great journey to get to now and I'm thrilled to be home in Hutchinson to carry the family business forward.
Come out any time, we'll put the coffee on (there are still plenty of mugs).